Imagine you are walking through the streets and see a store that doesn't have a door or a window. It doesn't even have a sign or a name. Well, that's how it feels like having an eCommerce website that is not optimized for search engines.
You have products on the shelf but there is no way a customer can look at it or even know that you sell things they need for that matter. We are living in the age of the internet, if someone wants to buy something then they are probably going to look for it online first. Reasons for this vary based on their preferences from finding a local product offering to buying at better prices.
So, if you are selling something on your website then you have to make sure that people looking for those products can find their way to your store on the internet. Otherwise, why put your products online in the first place?
Almost 43% of websites on the internet are powered by WordPress. And when it comes to ecommerce cms, Woocommerce and Magento are competing with each other. 
Ecommerce CMS provides a Woocommerce plugin to the store owners to set up an online store and sell their products easily. Some business owners collaborate with a top-rated eCommerce store development company that helps them with the development and deployment of an online store. This also includes SEO optimization.
In any case, you should be aware of the best SEO practices for your WordPress website. So, to help you with that, we have listed some effective SEO best practices.
SEO-optimization best practices for eCommerce content
SEO begins with the content. So, it is necessary to have better eCommerce content on your web pages. People are going to find your pages or products through keywords that you use in your content. So, you must be careful while choosing the keywords for your page and products.
1. Using the right Keywords
When you are talking about the keywords, you should keep two things in mind:
Are your keywords unique?
Are you using long-tail keywords?
Using unique keywords in your eCommerce website content is necessary for appearing on search engine results. You can't just go and put winter coats as your keyword if you are selling winter coats. That won't be enough. You must conduct thorough keyword research and find the keywords which people are using to find products similar to the ones you are selling. You can use tools like Google Adwords to find long strings of keywords.
"Pink north face winter coat" is an example of a long-tail keyword. You have to find such long-tail keywords for your products to have a chance of appearing in the search engine results. So if someone out there is searching for a pink north face winter coat, your store or product is more likely to appear. Because there will be millions of sites typing to rank for a winter coat or North Face but only a few will be competing for north face winter coat.
2. Title Tags
We discussed having keywords but where should you place them? Well, the first thing anyone would recommend placing them on is a title tag. A title tag is associated with the title of each page or post on the website. If you are selling a pink north face winter coat then make sure that you add that keyword in your product's title.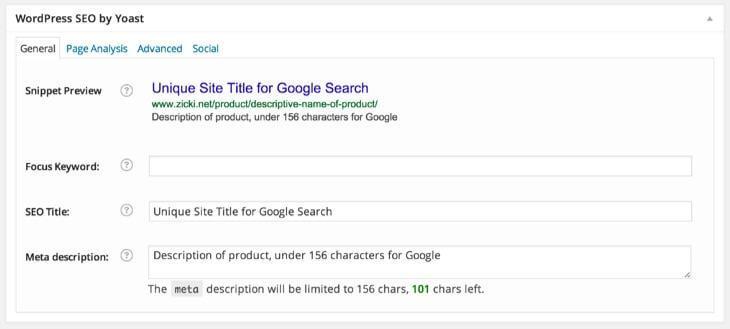 On top of that, you can also install the Yoast SEO plugin for WordPress to optimize your site for SEO. You can use this tool to optimize the title of your site and make it display differently on search engines. If you put Buy Now as your display text on the product link on search engines then the visitors would know that they can buy that product from you by clicking the link.
3. Product Description
After the product title, you have to provide information about your product on an eCommerce website. And mind that, this isn't the short description you see on top of a product page, it's a space where you have to provide a detailed and optimized product description.
Now the information you put in the product description should feature your keyword multiple times, especially in its first sentence. There should be a considerable amount of text in this section. You can also add some testimonials or reviews. The more optimized content you add, the better your chances are to gain attention from search engines.
4. Other areas on WordPress for keyword optimization
Apart from the title tag and the product description, there are some places where you have to put the keyword to optimize your WordPress website for SEO. They are –
Meta description
Site permalink
Image "alt-text"
Image captions
Short product description (WooCommerce feature)
WordPress and WooCommerce tags and categories
5. Blogging
Blog regularly on your eCommerce WordPress site. Apart from the product offerings, you should have more content that can catch the attention of the people and then draw it to the products you are selling.
Let's say you are selling skateboards on your website then you have to create a list of content ideas around the topic. In this case, you can write about -n
How to build a skateboard
Black Label "Super Mex" skateboard review
Choosing the right wheels for your skateboard
Skateboards versus longboards
Blogging won't be a problem on your WordPress eCommerce site as the platform is itself a content management system, so you will get everything you need for getting started with blogging. And if you want to place a CTA in your blogs that will take your readers directly to the product page for shopping then you need to use different widgets from your WordPress theme for that.
6. Page loading speed
People don't want to wait in line at the grocery stores, they just want to grab their things and check out as quickly as possible. The same is true with websites. If your page is taking too much time to load, people will leave never to come back without even looking at your product.
So you have to ensure that the themes and plugins you are using from WordPress are lightweight and don't take too long to load. And we are talking about the fractions of seconds here. You also have to make sure that the hosting service provider also allows your website to load quickly. 
If you are not sure about your website's performance then you can check it out on the platforms like Ubersuggest or GTMetrix. They will show you how your website performed and what you can do to counter the bad results.
eCommerce image optimization for SEO
A picture speaks a thousand words. We have all heard it, maybe that's why visuals are more appealing than words. And the more attractive pictures you post about your product, the more it will appeal to the visitors to buy them. Here in this section, we discuss how you should optimize the image on your site for SEO. 
7. Image alt text
When you upload the images of your product, you have to add the keywords there too. How else did the search engines know what is in the image or what the image is trying to show? You have to put the keyword in the title and alt text of the image.
8. Image quality
You have to appeal to visitors to buy the products so you have to post high-quality pictures. But keep one thing in mind: the quality of an image shouldn't be too high to slow down the loading speed of the web page. The image itself shouldn't take much longer than a second or maybe a couple of seconds to load otherwise the visitors might lose interest before seeing the product and will leave to never return.
9. Add Product Reviews and Star Ratings
When you install this plugin, a new window will open on the WordPress post editor, page, or product. It allows you to add the schema ranking to the content. The list of things you can add schema rank to include:
Availability
Star ratings
Product reviews
Currency
Product name
Price brand
10. Schema
You have to make sure that the schema information contains the same information as that of the one in the product description. It shouldn't happen that a person reads something else in a snippet and comes across a varied product after clicking the link. Don't use any clickbait kind of strategy in snippets either. It will just ruin your store's reputation in the long term.
Schema allows you to give potential customers a little peek at your product that would entice them to click the link to find out more.
There is a textual tool named Schema that can help you with further categorization of the products you are selling on your eCommerce website. A WordPress plugin named All in One Schema.org Rich Snippets will enable you to add such texts.
11. Social Media Sharing
Social media is all the rage right now. What's a better way of gaining people's attention than putting it directly in front of the people's eyes? The Jetpack plugin in WordPress allows you to share your product pages on social media. You can also automate the website to instantly post about the new content shared on the site directly on different social media platforms like Twitter and Facebook. 
You can also provide a social sharing button to the customers who have purchased your product and encourage them to write a nice review about your product on social media platforms.
12. Mobile-responsive
Most of the eCommerce products are bought using mobile phones. So it is extremely important to optimize your WordPress website for mobile too. It must have a mobile responsive design. So make sure the WordPress theme you are using for your site is mobile responsive. You can check that with the tools we discussed earlier about site performance.
Having a mobile responsive design is crucial for both SEO and customer convenience.
13. Checkout Landing Page
We all know how much people love adding products to their carts. It makes them feel like those products are in their possession, momentarily maybe if they remove them but still, they dream of having it and then they wander off elsewhere.
It's just like shopping at a supermarket, you visit different shelves while adding products to your trolley. You visit some product page, like it, add it to the cart, and then visit another one. They also compare the product, visit a blog and click on the items on the sidebar.
You have to ensure that either a landing page or a full-width template displays the major sales landing pages. Because a full width will have a header and footer instead of a sidebar for navigation. And the landing page will have nothing but the content on the page.
Implementing these strategies will prevent the visitors from clicking off the checkout page which will lead to increased sales. You can get the plugins for landing pages on the WordPress platform.
14. Local SEO
Not every business can handle global shipping. Most of the sellers yearn to grow their businesses locally anyway. But to have a strong local presence online, the website must be SEO optimized similarly. The owners must use keywords that resonate with the demands of the queries of the locals. Here are a few things you can try as a part of your local SEO optimization of eCommerce sites.
Use location-focused keywords
Set up your Google Places profile and keep updating it regularly
Share your latest offerings on social media
Link your eCommerce website with friendly or complementary businesses in the area
Participate in the local events and ask to share the link to your site
Final words
This was the most common checklist you have to consider while optimizing your WordPress eCommerce site for SEO. there may be more issues with your site and frankly, there are many more advanced best SEO practices that you can implement but there is a thing called not overdoing it.
So just apply these basic SEO practices and then use tools like Ubersuggest to check the audit of your website. If there are any issues with your website, they will report them to you along with what you can do to resolve them. You can take it from there and optimize your WordPress site accordingly. You don't need to undergo major changes, it will be just a few tweaks and you will be on your merry way to eCommerce success.